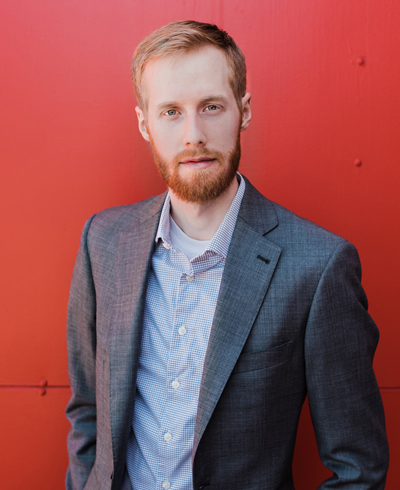 Composition, Music Technology
About
John Rot is a composer, theorist, conductor and pianist based in Colorado Springs.
As a composer, he strives to create art that challenges and confounds preconceived notions regarding form, rhythm, and development, while employing unique conceptualizations of division and simultaneity to create powerful temporal and sonic experiences. His work often straddles divisions between free atonality and tonality/spectralism, employing traditional acoustic instruments alongside electronic and mechanical elements, and breaking down typical paradigms concerning the performer-audience relationship and the concert structure as a whole. He has been performed and commissioned by a diverse group of ensembles and performers including the International Contemporary Ensemble, Talea Ensemble, JACK Quartet, Mivos Quartet, Ensemble Court-circuit, loadbang, and TAK Ensemble, as well as music festivals in the United States and Europe.
As a pianist and conductor, John has competed and performed nationally and internationally.
Beyond composition and performance, teaching is a fundamental facet of John's artistic life. In addition to being an enthusiastic purveyor of progressive and non-traditional pedagogy, he is fundamentally committed to the study of composition as a crucial element of an educational paradigm in which contemporary music functions as a potent means of discourse and discovery.
John has degrees in composition from Columbia University and Oberlin Conservatory. He recently served as Visiting Assistant Professor and Composition Department Chair at The University of Denver's Lamont School of Music, and is currently working to expand pre-college and non-institutional composition pedagogy in the Colorado Springs area and beyond.
Education
Columbia University (DMA, MA)
Oberlin Conservatory (BM)