Breaking the barriers of sound
Music Program at UCCS
The UCCS Music Program connects long-standing musical traditions with twenty-first-century interdisciplinary practices and innovative approaches. Our inclusive, broad-based curriculum encourages students to develop excellence in a variety of musical genres. We welcome students from all musical backgrounds and styles to join and contribute to our vibrant community.
Yiheng Yvonne Wu, Ph.D.
Co-director, Music Program
Welcome to the Music Program at UCCS! In our program, faculty are dedicated to supporting you through individual training, assistance with career development, and a supportive community that helps our students thrive and forge new musical pathways.
Our program is flexible and comprehensive. Students—both music majors and non-majors—can take courses in performance, composition, electronic music, audio engineering and production, business and entrepreneurship, music history and ethnomusicology, and interdisciplinary arts.
We also boast spectacular spaces for practicing, performing, and recording music. Opened in 2018, the Ent Center for the Arts provides state-of-the-art facilities for all aspects of music creation. In addition, our students have numerous opportunities to collaborate creatively across the arts in Film, Dance, Game-Design, Theatre, and Visual Arts.
Come join us at UCCS and learn more!

Solveig Olsen, M.M.
Co-director, Music Program
Welcome to UCCS Music! Our students and faculty are constantly creating new intersections across music and the arts, humanities, natural and social sciences, and technology, unveiling new possibilites for music as a vibrant, influential field in the twenty-first century.
We offer a broad range of instrumental and vocal ensembles for both majors and non-majors and are particularly dedicated to enabling opportunities for musicians across the campus. Students can reach their highest potential as performers through our scholarship-driven Chamber Music program that includes: brass and woodwind quintets, string quartet, jazz combos, and small vocal groups. Other ensembles include Jazz and Improvisation, Creative Music, Electroacoustic, University Choir, Music Theatre, and Theatreworks student productions.
Come open doors to your musical future at UCCS!
Academic Programs
Our inclusive, broad-based music degrees prepare musicians for varied careers in composition/songwriting, performance, audio engineering, music production, and education. The UCCS Music program is unique for its flexibility—students may create their own paths through a variety of electives in addition to the core curriculum.
Our goals are to equip music students with modern skills, serve all music styles, contribute to the university and region through performances and events, and maintain a welcoming environment for a diverse student and faculty body.
How to Apply to the Music BA Program
To apply for the Music BA program, complete an additional application apart from the general UCCS application.
Steps to Apply:
Apply to UCCS.
If accepted, you will receive an invitation to submit materials for the Music BA application.
Follow the instructions in the link for your primary instrument or creative medium to prepare recorded musical samples that showcase your skill and versatility.
Fill out and submit the Music BA Application, along with your musical samples provided by the Admissions Office.
Submit your audio or video files as links to streaming platforms such as YouTube, Vimeo, Soundcloud, or a web-based drive such as Google Drive or OneDrive.
Music Faculty
Our world-class, internationally celebrated faculty are decorated performers and composers, trained in long-standing musical traditions and deeply invested in advancing twenty-first-century interdisciplinary practices and innovative approaches.
Through our classes and performance opportunities, students become versatile and competitive in the twenty-first century musical landscape by developing essential skills in musicianship, entrepreneurship, and creative practices.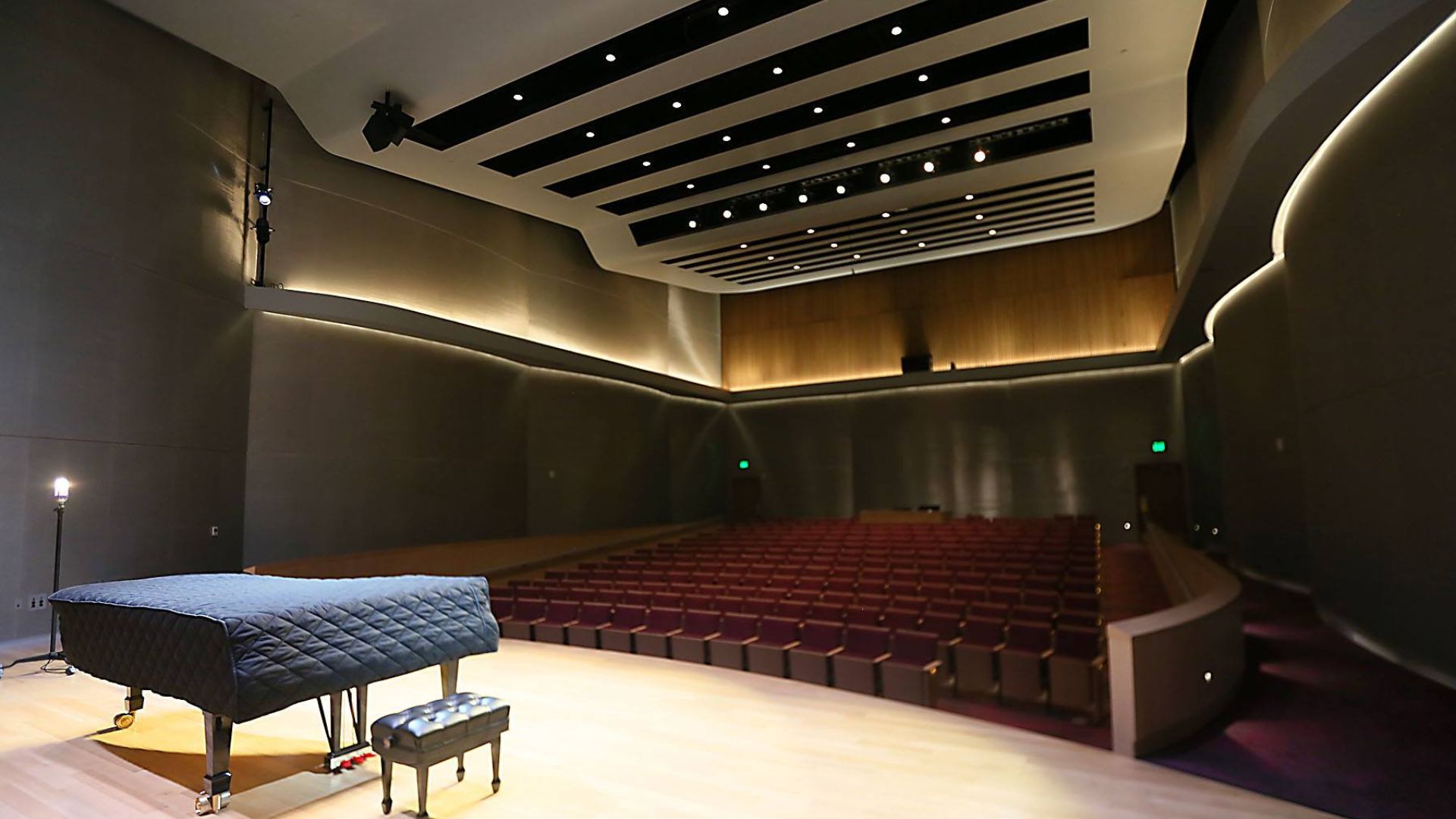 Chapman Foundations Recital Hall
The Chapman Foundations Recital Hall is the central music performance venue of the VAPA Department and is designed to be one of the highest quality acoustic music spaces in the region. Seating 230, its compelling beauty and technical grandeur provide artists and audiences alike with an unparalleled experience. VAPA senior and junior recitals take place here, as well as frequent performances by our ensembles, faculty, visiting artists, and more.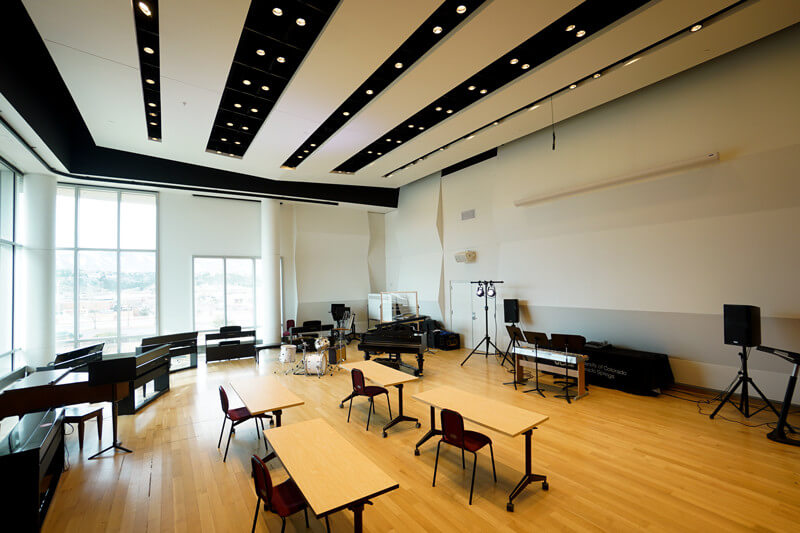 Margot Lane Studio
The Margot Lane Studio is a 2,000 square foot rehearsal room for many ensembles, recordings, film scoring and other collaborative uses. With pristine acoustics, this room boasts large wall-sized windows with astounding views of Pikes Peak.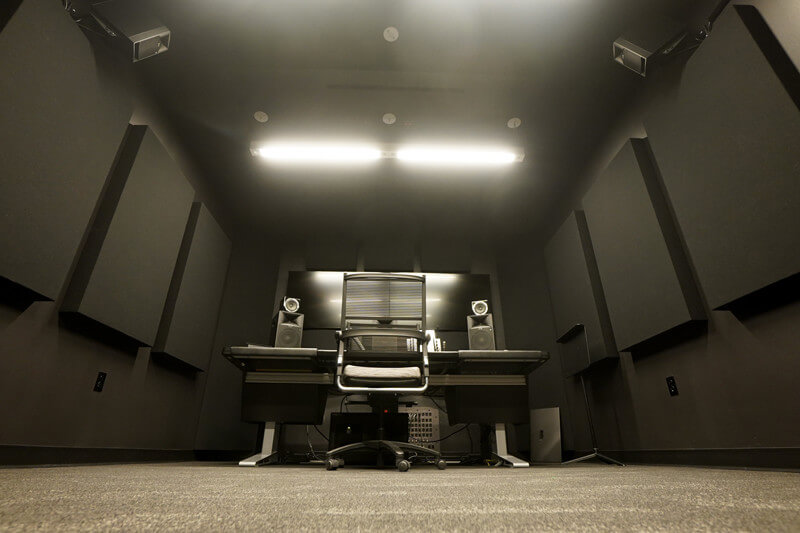 Recording Studio & Audio Laboratory
The recording studio and audio laboratory is a state-of-the-art facility wired directly into the Margo Lane Rehearsal Hall, the Chapman Foundations Recital Hall, the Osborne Theatre and the Shockley Zalabak Theater. This facility serves a broad array of functions within the VAPA Department including audio recording engineering, sound design, film scoring, and multimedia production.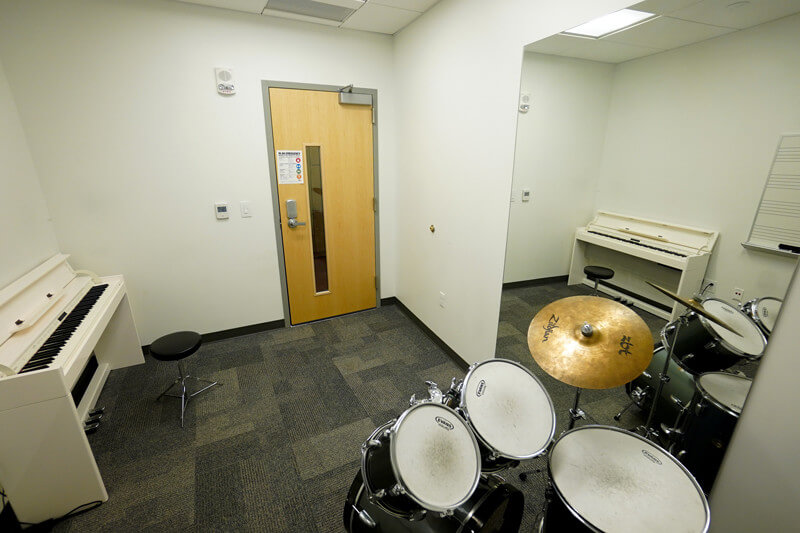 Practice rooms
The music wing houses several practice rooms and small rehearsal studios constructed with high level acoustic isolation.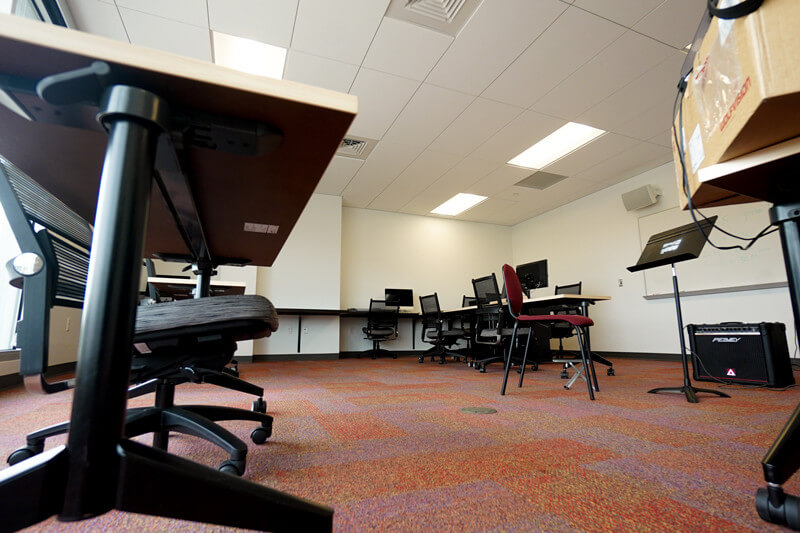 Music program classrooms
Music Program classrooms in the Ent Center for the Arts are dedicated to musicians of every discipline. The rooms feature state-of-the-art technology and computer workstations.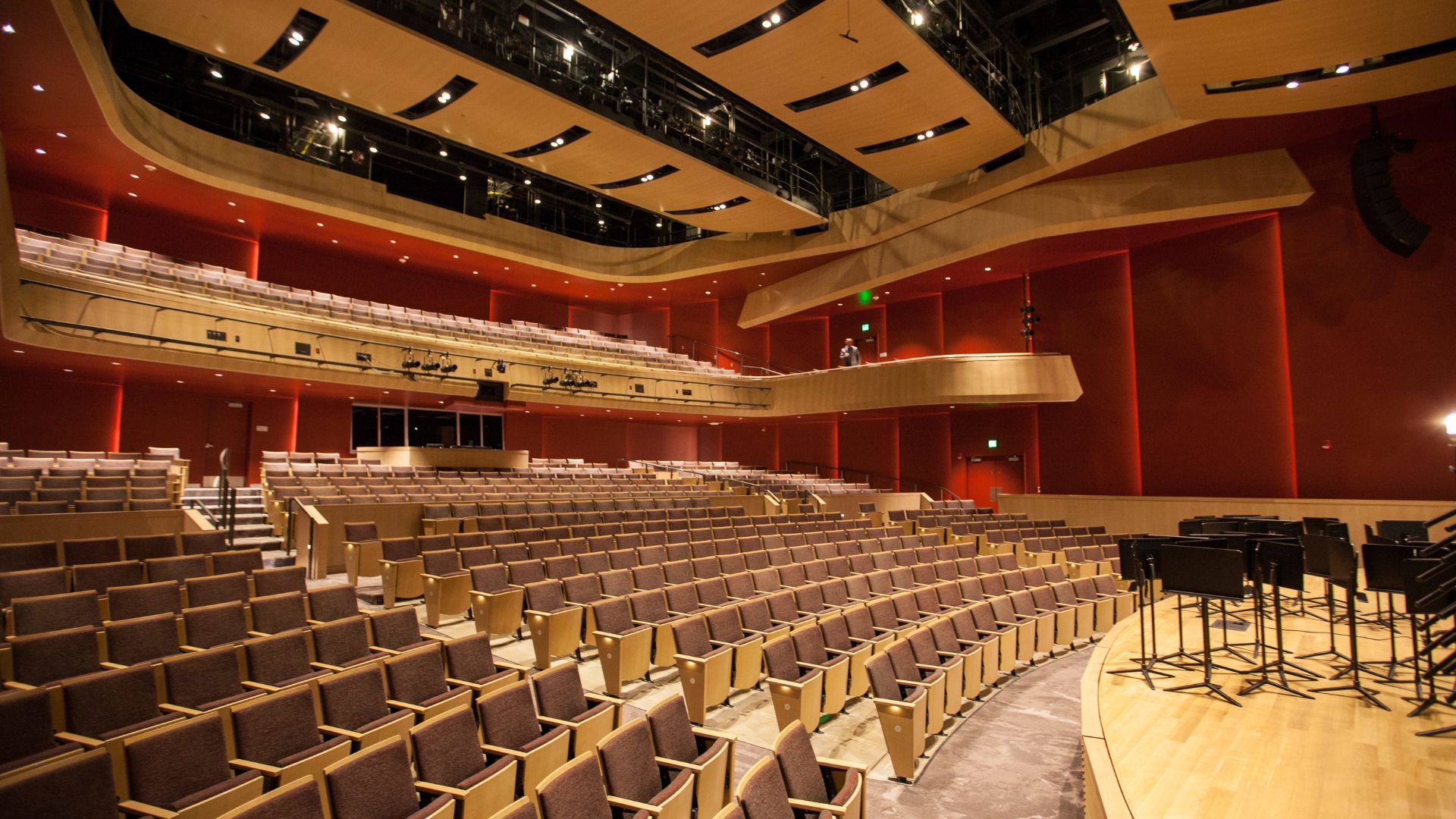 Shockley-Zalabak Theater
Seating 757, this is the largest venue in the Ent Center for the Arts, designed to feel intimate despite its capacity and incorporating technically advanced features to showcase a diverse array of events, from dance to orchestra to choral performances and more.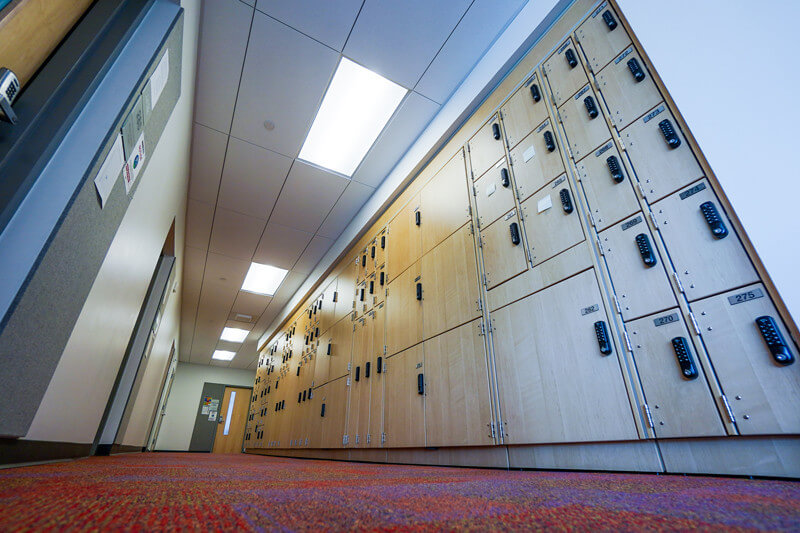 Lockers
In the Music wing of the Ent Center we have hallways of lockers for student instruments.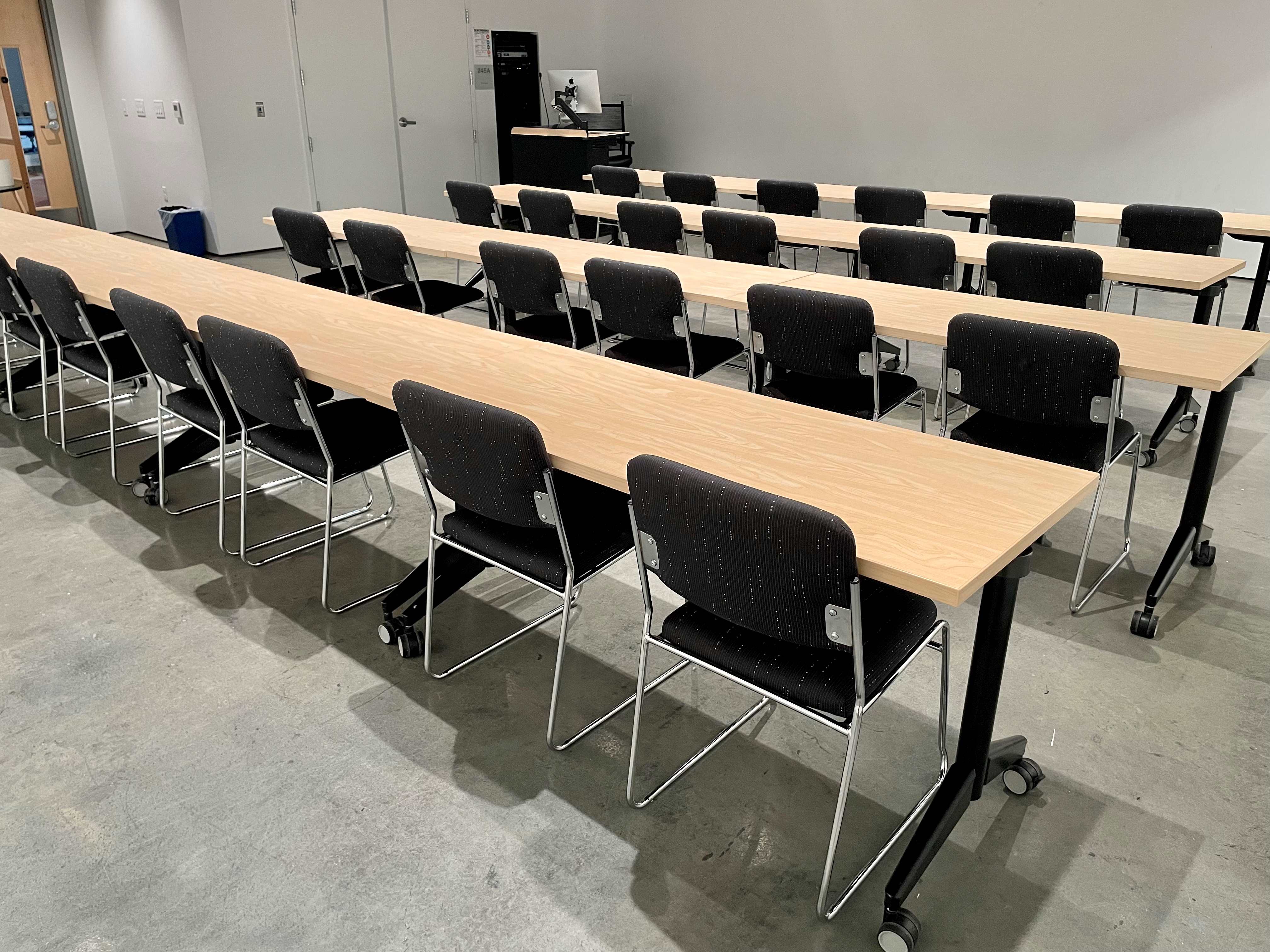 VAPA Interdisciplinary Arts Lab
The VAPA Interdisciplinary Arts Lab (ECFA 245) is a multiuse, collaborative space for the interdisciplinary curriculum of the Department of Visual and Performing Arts programs (Film Studies, History of Art & Visual Culture, Music, Theatre & Dance, Visual Arts), equipped with an array of technology and resources including multi-media technology, installation and sculpture capabilities, sound, green screen for film, and more.
Giving Opportunities
Bachelor of Innovation in Music, Tidal Breeze Jazz Arts Scholarship Endowment
Donating helps us provide undergraduate scholarship awards for students enrolled at UCCS and pursuing a BI Music degree. Preference given to students who are focusing on technology and science course work, in addition to the BI Music.
Contact Us
Have questions about our different degree programs? Interested in a particular ensemble? Contact us for more information!
CONNECT WITH US ON SOCIAL MEDIA