George E. Lewis in Residence
From: Wed, 11/20/2019 - 05:00 PM
Through: Sun, 11/24/2019 - 05:00 PM

University of Colorado Colorado Springs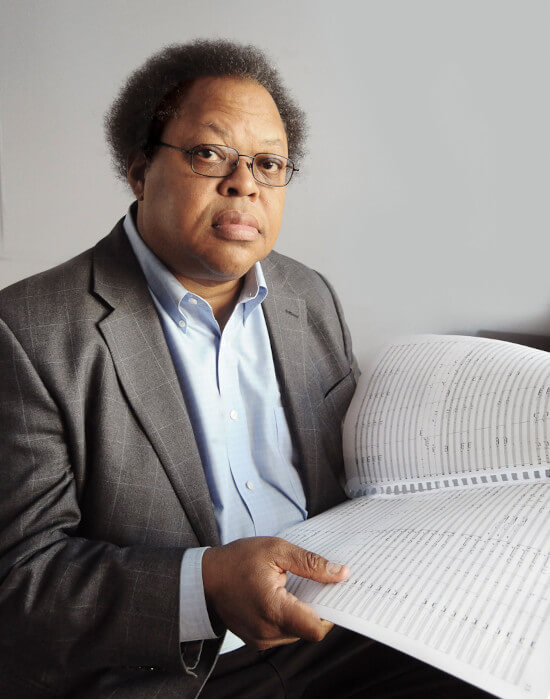 The 2019 Peak Frequency Music Festival welcomes artist in residence, composer, musicologist, technologist George E. Lewis featuring a student-centered festival opening, a concert of the music of George Lewis, a campus-wide lecture in the UCCS Dean's Scholar Series and the world premiere of a double concerto for trumpet and piano with the Chamber Orchestra of the Springs. Dr. Lewis will also be working with UCCS music and VAPA students throughout the week. The full schedule and information can be found below.

George E. Lewis Biography
George E. Lewis is the Edwin H. Case Professor of American Music at Columbia University. A 2002 MacArthur "genius" Fellow, as well as a Guggenheim Fellow, a Corresponding Fellow of the British Academy, and a Fellow of the American Academy of Arts and Sciences and the American Academy of Arts and Letters. Lewis's work in electronic and computer music and multimedia installations, chamber and orchestral music, opera, and improvisative forms is documented on more than 150 recordings, presented by the world's finest ensembles. Lewis has also published extensively on music, interactive technologies and media, experimental art, and improvisation, including his award-winning book, A Power Stronger Than Itself: The AACM and American Experimental Music (University of Chicago Press, 2008) and his co-edited two-volume Oxford Handbook of Critical Improvisation Studies (2016), which brought together scholars from the humanities, arts, and the social and natural sciences. Lewis holds honorary doctorates from the University of Edinburgh, New College of Florida, and Harvard University. See https://music.columbia.edu/bios/george-e-lewis.
This residency, curated by Dr. Glen Whitehead and Dr. Anthony Tan is a grand collaboration sponsored by the UCCS Music Program, the Colorado College Music Department, The Heller Center for the Arts and Humanities, CU President's Fund for the Humanities, the UCCS Office of Research and the Chamber Orchestra of the Springs.

FESTIVAL EVENTS

Wednesday, November 20
Heller Center for the Arts Fellowship: Collaboration as an Art Form
Festival Opening reception
original student music and film works
music of / and conversations with George Lewis
Heller Center for Arts & Humanities, UCCS
1250 N. Campus Heights Drive
5:00pm Reception
6:00pm Performance
free of charge
With a focus on the Heller Center Fellowship and the nature of collaboration, join us as we launch the 2019 Peak Frequency Festival with student works specifically created for the George Lewis Residency addressing composition, improvisation, technology, culture and collaboration. This event features Endless Shout, a solo piano piece by George Lewis performed by Assistant Professor of Music Dr. Anthony Tan on the 1930's Heller piano; student films from VAPA 3900 Music, Film Poetry conceived from improvisational methods and environmental themes; student works composed and performed by music honors scholarship composers and ensemble members, as well as an interactive sound sculpture created by a Bachelor of Innovation music major.

Thursday, November 21
UCCS Dean's Distinguished Scholar Series
George E. Lewis: "Improvisation as a Way of Change"
UCCS Kraemer Family Library, 2nd Floor Apse
1420 Austin Bluffs Ave
12:30pm – 1:30pm
free of charge
https://www.uccs.edu/research/deans-scholar-series
The field of critical improvisation studies has exploded in recent years, with a surge in interdisciplinary inquiry across a wide variety of disciplines in the humanities, the arts, and the social and natural sciences, across both artistic and nominally non-artistic fields. The fundamental condition of improvisation is centered around the idea that practices of improvisation and innovation are not limited to the artistic domain, but are fundamental to the existence and survival of every human formation. Thus, this lecture will show that the humanistic and scientific study of improvisation is providing us with new understandings of the human condition.

Thursday, November 21
George Lewis with UCCS Music Faculty and Students
Ent Center for the Arts
Chapman Foundations Recital Hall
5225 N. Nevada Ave
7:30pm
free of charge

Music faculty and students along with George Lewis will perform a variety of his compositions, including the ground-breaking interactive work Voyager, performed with a Yamaha Disklavier computer-controlled concert grand piano with Lewis on trombone and Dr. Glen Whitehead on trumpet, Memorial featuring vocal instructor Haleh Abghari, Mangle of Practice featuring Jane Chan-cello and Kelly Zuercher –piano, Mangle of Practice string quartet featuring Martha Muehleisen, Jane Chan, Jacob Klock and Silvana Ferrarin, and Creative Construction featuring MUS 2300 Electro Acoustic Ensemble.

Sunday, November 24
Lonnie and Lonie (2019), a Double Concerto for Trumpet and Piano (World Premiere)
Susan Grace, piano
Glen Whitehead, trumpet
Chamber Orchestra of the Springs
First United Methodist Church
420 North Nevada Ave.
2:30pm
https://www.chamberorchestraofthesprings.org/2019-2020-season.html
This commission is a grand collaboration between UCCS, Colorado College and the Chamber Orchestra of the Springs for the "Bluegrass Beginnings" concert. The concert will also feature the regional premiere of "Sky: Bluegrass Concerto" by Michael Torke, "Starburst" by Jessie Montgomery, Felix Mendelssohn's "Scherzo in G Minor" and Mozart's grand "Symphony No. 34."

Program Notes: Lonnie and Lonie
This work was inspired by my twin uncles, Lonnie and Lonie Griffith, who as teenagers were frequently tasked with watching over me while my parents were at work on weekends. We would go to horror movies like Mr. Sardonicus, where the director himself calls for a vote on whether the title character should suffer or escape the consequences of his depredations. Later, at the now-defunct Illinois Slag and Ballast Company, where Lonnie and Lonie were supervisors, they got me a job cleaning out railroad cars during a particularly intense Chicago winter.
Lonnie and Lonie expressed both complementary and contrasting views of the world, a circumstance that, in line with my general understanding of the important trope of depiction in American music (Ives, Ellington, and Carter, for examples), is perfectly suited to the deployment of the concerto form, which has offered composers the opportunity to enact both agonistic and cooperative dramaturgical experiences of the dialogue among soloist(s) and orchestra. I'd like to provide this small hint to you automobile buffs out there as to which soloist represents "Lonnie" and which "Lonie": I remember when both were driving "muscle cars"--a Dodge Charger (Lonnie) and an SS396 Chevrolet Chevelle (Lonie). In the concluding double cadenza, the soloists, driving fast and noisily through the narrower streets of Chicago's Englewood district, head each other off at the pass before the work's emphatic, but somehow pensive conclusion.
This work is dedicated to Lonnie Griffith (1947-) and the memory of Lonie Griffith (1947-2002). I would like to thank Glen Whitehead, Susan Grace, Maestro Thomas Wilson, and the Chamber Orchestra of the Springs for bringing this project to full fruition.

~ George E. Lewis
CONTACT INFORMATION :
Glen Whitehead
Music Program Co-Director, Professor of Music