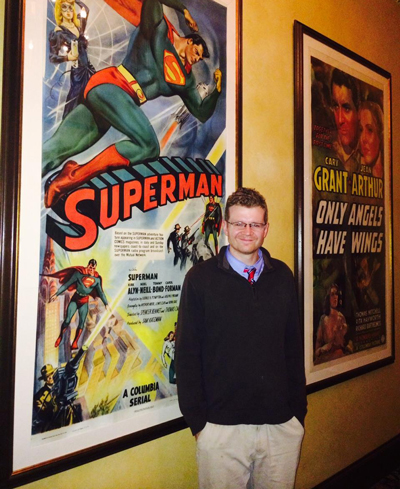 Education
B.A. 2009, M.A. 2010 in Film Studies, University of Colorado Boulder
Courses Taught
Upper Division
FILM 3550: Hollywood History
Selected Publications
The Catholic Hitchcock
Alfred Hitchcock, among the most well-known and influential Hollywood filmmakers, was known primarily for his mastery of the suspense and thriller genres. His most famous and oft-cited films, such as Rear Window, Vertigo, and Psycho, dominate the discourse in regard to cinematic and critical studies of his work while a number of other films, and the themes therein, remain largely neglected. Hitchcock's Catholic faith played an integral role in such films, specifically I Confess and The Wrong Man. Both films center on characters of high moral resolve. A priest and a religious family man respectively find themselves embroiled in events and circumstances as wrongfully accused individuals. By Hitchcock's devices, their moral codes and theological beliefs ultimately clear the characters' names and restore their reputations. Using these case studies, as well as The Lodger and Rope, this thesis argues that Hitchcock himself took his Catholic upbringing and religious beliefs very seriously throughout his career. He implemented his faith into these films to create Catholic narratives, complementing his cognomen as "The Master of Suspense."

"Strange Bedfellows: Ang Lee's Investigation of Food, Sex, and Culture"
Focusing on his films Eat Drink Man Woman and Lust, Caution, this essay explores internationally celebrated director Ang Lee's portrayal of Chinese culture and tradition through food, family, and ultimately, love.

"The Cinematic Window: Looking Through the Fantasy"
An analysis and delineation of film theory, from Hugo Munsterberg to Andre Bazin, and a hypothetical assertion that filmgoing is no passive, stationary experience, but an opportunity to look through the "window" of the screen and become a part of the fantasy of cinema.

"Eternal Struggle of the Moral Mind"
Using Charlie Kaufman's screenplay for Eternal Sunshine of the Spotless Mind as a framing device, this paper discusses intercultural views of social norms in relation to morality and immorality.