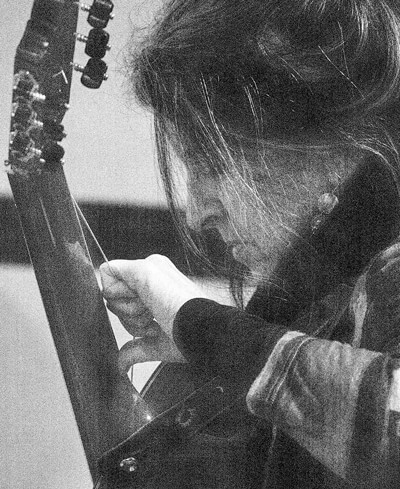 About
Widely known for pioneering composition for prepared guitar, Janet Feder has been featured on numerous recordings, radio programs, and film scores including the internationally acclaimed solo album Songs With Words and compilations The $100 Guitar Project (Bridge, 2013), I Never Meta Guitar (Clean Feed, 2010) and 156 Strings (Cuneiform, 2002). 2015 greeted her newest solo album T H I S C L O S E.

Janet currently serves at the University of Colorado (Colorado Springs). Touring and teaching internationally, she has also performed and collaborated with a diverse landscape of renowned musicians including Paolo Angeli, Nels Cline, Bill Frisell, Fred Frith, Darwin Grosse, Ron Miles, Tatsuya Nakatani, Pauline Oliveros, Jane Rigler, Elliott Sharp among others.

Janet co-curated the international new media festival MediaLive (2010-2017), is an artistic associate of square product theatre, and serves the boards of Creative Music Works and Supporters Of Children (501c3).