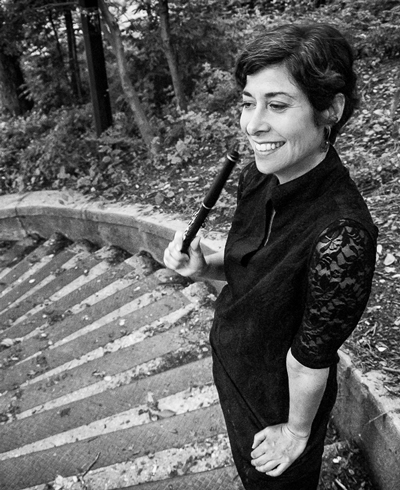 Flute, Composition, Interdisciplinary Arts
About
Flutist, composer, improviser Jane Rigler has always been moving and reshaping her worldviews through discoveries in music performance. As a performer, composer, and educator who centers her work on sonically uniting the world around her, she earned a Certification in Deep Listening© which opens new layers of listening pathways to reach out to a variety of people. Since joining this program (2015), she has been commissioned to compose three new works: a flute and percussion duo, a flute quartet and a flute and guitar duo. Her development as a composer and specialist in contemporary flute performance began with her fascination with the voice. As a young person inspired by the theatrical elements of singing, she believes her voice lessons actually helped her win many flute competitions (including MTNA National Woodwind Winner 1984).

After her flute orchestral training at Northwestern University (B.M. 1998), Jane soon found her calling as a specialist of contemporary music at UCSD (M.M. 1991, Ph.D. 1996) performing works by Ferneyhough, Czernowin, Saariaho, Takemitsu, Globokar, among others. Through her study of phonological musical sounds that emerge from the combination of singing through the tube, she developed a variety of ways the voice can be sung through the flute by studying techniques used in many different cultures. Her first compositions were inspired from the yodeling-hocket techniques found in the music of the Aka Pygmies of the Central Africa Republic. Her pieces play with hidden languages, recall ancestral songs, incorporate playful game techniques and ask the performers to imagine and improvise (Two Seaming, Red, InterPresence and To Painting/A la pintura are examples of this).

Her international career performing edgy, complicated compositions that incorporate demanding extended techniques as well as becoming a professional improviser distinguishes Jane as a leading specialist of contemporary music. She refined her improvisational skills while living in Spain for nine years (1994-2013) as an active member of several Free Improvisation collectives and performed with renowned musicians including Peter Kowald, Lê Quan Ninh, Agustí Fernández, Ricardo Arias, Miya Masaoka. While living in New York (2013-2009) she performed as a guest artist with established contemporary ensembles (Either/Or, Wet Ink, etc.) and continues to be a featured soloist in many international music festivals (SEAMUS, NYCEMF, SIGGRAPH, NIME, In-Audito, etc.). Today, her acoustic and interactive electronic works push the flute to new limits. The calling (2013-present) with interactive electronics demonstrates her commitment to connect her curiosity for people, language, environmental awareness, animals and nature. Her recent album, Rarefactions (2015) contrasts both dense, breathtaking works with subtle, intimate perspectives of sounds as they travel through the flute tube.

Interdisciplinary alliance is in her nature. She performed over seventeen collaborative concerts during her NEA-JUSFC (2009-10) residency in Japan. Recognized for her ambassador-like approach to performance, she was invited back to Japan twice (by the U.S. Embassy for the 2011 Holiday Tour) and the Chihan Art Project for the creation of her sound installation/concert While You Sleep (2013). She received artist residencies from iEar@RPI (2006), UCROSS (2012) and Hambidge (2010) and three from Harvestworks (2004, 2008, 2015). During her 2016 Civitella Ranieri residency she composed a flute quartet "Beyond the Fata Morgana." She then stayed on for another few months to tour throughout Europe, offering Deep Listening® workshops, collaborative concerts and solo performances in France, Spain, Germany and Finland. Jane received a 2019 NewMusicUSA grant to record her newest work Arboreous Incantations with the flute trio Areon Flutes for her new album Whorl which will be release in 2020. During her sabbatical year 2019-20, Dr. Rigler will be based at the University College Cork, Ireland for her Teaching/Research fellowship. Feel free to follow her activities on her website above.
Jane received a 2019 NewMusicUSA grant to record her work Arboreous Incantations for her album Whorl. During her sabbatical year 2019-20, Dr. Rigler was based at the University College Cork, Ireland for her Fulbright Teaching/Research fellowship. Feel free to follow her activities on her website above.
As an Associate Professor at the University of Colorado, Colorado Springs, she teaches flute, composition, computer music, Sound Art, Deep Listening, Performance Art and telematic performance, contemporary music history, the Creative Music Ensemble, improvisation, and co-teaches Digital Humanity courses. Jane is also a Faculty Affiliate with the Lyda Hill Institute for Human Resilience and is researching the positive effects Deep Listening practices have on trauma.
Education
Ph.D. Critical Studies and Experimental Music Practices, University of California, San Diego, 1996
M.A. Contemporary Music Performance Practice, University of California, San Diego, 1991
B.M. Flute Performance, Northwestern University, 1988
Courses Taught
HUM 3990 - Digital Humanity (online)
Intro to Ethnomusicology
VAPA 3900 - Performance Art
VAPA 3900 - Sound Art
VAPA 3900 Ecoacoustics: Interactive Earth
VAPA 3900 Interspersed Arts Collective (online)
VAPA 3900 Listening in Motion
20th Century Music History (online)
Electroacoustic Ensemble
VAPA 1005 - Sound, Listening and Imagination
MUS 2150 - Electronic and Computer Music I
MUS 4300 Creative Music Ensemble
Chamber Music Ensemble
Jazz History (online)
VAPA Arts Innovation
Honors and Awards
Selected Fellowships, Awards and Grants
2023 - National Endowment of the Arts (Arts Projects Grant) for curating, directing, producing, and hosting, "The Arts & Resiliency Gathering" (Oct 26-28, 2023) at UCCS
2019-20 - Fulbright Teaching/Research 10-month award (University College County Cork, Ireland)
2019-20 - NewMusic USA grant for recording Rigler's new work for three piccolos, Arboreous Incantations with the Areon Flute Trio ensemble
2016-2017 - Montalvo Lucas Artist Residency
2016 - Committee of Research and Creative Work Award (CRCW), UCCS
2016 - Civitella Ranieri Artist Residency
2004, 2008 and 2015 - Harvestworks, Artist in Residency
2013 - New Music USA: "While You Sleep" sound installation at the Chihan House, Japan
2012-2013 - CU Roser Grant, Diversity Grant
2012 - Humanities Award: CD recording "Rarefaction"
2012 - Teaching Enhancement Grant
2009-2010 - JUSFC Fellowship (www.jusfc.gov)