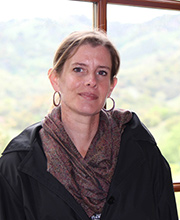 Director, Museum Studies & Gallery Practice
About
Karin Larkin is Director of Curation and Archaeological Services for the Department of Anthropology, University of Colorado Colorado Springs. Dr. Larkin received her PhD in Anthropology and Masters in Museum Studies from the University of Colorado Boulder and her Bachelor of Arts from the University of California at Santa Cruz in Art History in 1993. Dr. Larkin has been working in museums and arts institutions for nearly 20 years and most recently was Curator at the Sangre de Cristo Arts Center in Pueblo. She has conducted field work in the four corners region of the Southwest, Chihuahua Mexico, and southern Colorado at the Ludlow Massacre Site. She wrote her dissertation on community interactions using ceramic analysis from archaeological sites in Chihuahua, Mexico associated with the southern zone of the Casas Grandes interaction sphere. She acted as the second project director of the Colorado Coalfield War Archaeological Project at the University of Denver funded through the State Historic Fund. In 2009, she co-edited the book The Archaeology of Class War with Dr. Randall McGuire, SUNY Binghamton published by the University Press of Colorado. She has worked at a variety of museums throughout the western United States including art and anthropological institutions. She currently teaches courses in anthropology, archaeology and Museum and Gallery Practice. Her interests include prehistoric archaeology of the greater Southwest, curation, ceramic analysis, the archaeology and history of the progressive era in southern Colorado and museum studies.
Selected Publications
Larkin, Karin 2014 Uncovering Families: Historical Archaeology and the Women and Children of the Southern Colorado Coal Camps. Colorado Heritage March/April
Larkin, Karin Burd and Randall McGuire editors 2009 The Archaeology of Class War: Research on the Ludlow Massacre Site. University of Colorado Press, Boulder, CO.
Larkin, Karin Burd, Jane Kelley, and Mitchel Hendrickson 2004 Ceramics as Temporal and Spatial Indicators. In Surveying the Archaeology of Northern Mexico. Edited by Gillian Newell and Emiliano Gallaga. University of Utah Press, Salt Lake City
Lekson, Stephen H. and Karin Burd
2001 Forward. Pp. vii-ix In Chaco Society and Polity: Papers from the 1999 Conference. Edited by Linda S. Cordell, W. James Judge, and June-el Piper. New Mexico Archeological Council Special Publication 4, Albuquerque. 2001 New Histories of Ancient Chaco-The Chaco Synthesis. In The SAA Bulletin 18(2).
Honors and Awards
2013 Appointed to Ludlow Centennial Commemoration Commission by Colorado Governor John Hickenlooper
2013 Stephen H. Hart Award for Historic Preservation from Office of Archaeology and Historic Preservation, State of Colorado for Colorado Coalfield War Archaeology Project
2006 Finalist, Amerind-SAA Symposium Grant for Outstanding Symposium on New World Archaeology