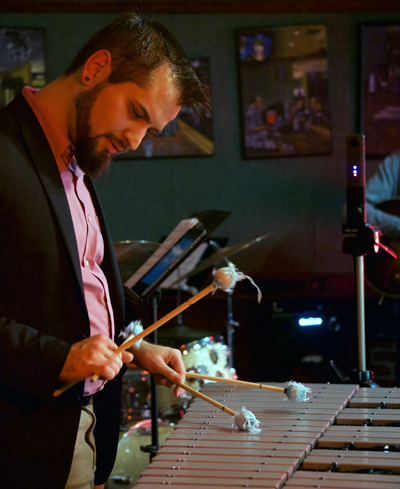 Lecturer - Drums and Percussion
About
Joseph Glassman is a Percussionist, Drummer, Jazz Vibraphonist, and Composer. Joseph began playing drum set in grade school. In 2014, Joseph received his Bachelor's in Classical Percussion Performance at the University of Denver's Lamont School of Music, under the study of John Kinzie, Principal Percussionist of the Colorado Symphony. He received scholarships for both academic and musical achievement. During these studies, Joseph was also studying drum set and jazz vibraphone. In 2019, Joseph received his Masters in Jazz Vibraphone Performance at the University of Illinois in Urbana-Champaign, under the study of Chip Stephens, Professor of Jazz Piano. He received a Tuition Waiver as well as a Teaching Assistantship with the Music Theory Department.
As a classical percussionist, Joseph has performed with ensembles including The Colorado Symphony and Colorado Springs Philharmonic. He has played in prestigious venues including Red Rocks Amphitheater, Boettcher Concert Hall, Gates Concert Hall, and Foelinger Great Hall. As a Jazz musician, Joseph has played with artists such as Chip Stephens, Chip McNeill, Tito Carrillo, Larry Gray, Joel Spencer, Donnie Heitler, Kevin Matthews, Tom Amend, Alex Heffron, and Hunter Roberts. Most recently, Joseph accepted a percussion/drum set position with the United States Air Force Academy Band, earning him the rank Technical Sergeant out of Basic Training.
Joseph has taught percussion, drum set, and jazz vibraphone and theory in his own private studio since he began college in 2010. As well, Joseph was a private and ensemble instructor for the United States Air Force Academy Drum and Bugle Corps, Rock Canyon High School, The Conservatory of Central Illinois, Performance Play Music School, Eaglecrest High School, Cherry Creek Academy, St. Edward High School, and Dakota Ridge High School. Joseph's current musical interests include the Dirty Projectors, Jacob Collier, Dirty Loops, Pat Metheny, Domi and JD Beck, and the Dear Hunter.