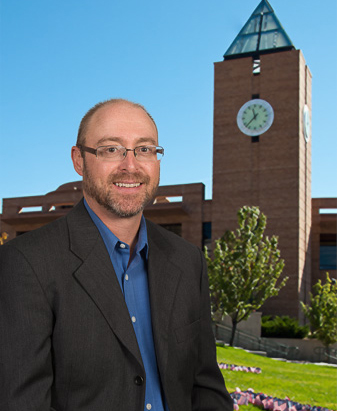 Chair and Professor of Music, Visual and Performing Arts; LAS Co-Director, Bachelor of Innovation™
Trumpet, Composition, Interdisciplinary Arts
About
Whitehead is an internationally recognized award-winning trumpet artist and composer who stretches the music field exploring improvisational phenomena, interactive communication and environmental collaboration between living cultures, technologies and the natural world. Springing from the world of trumpet virtuosity, his creative work often explores instrumental and vocal music as immersive soundscapes, sonic theatre, installation, environmental exploration and cultural discourse in order to build compelling new interdisciplinary investigations across the arts and sciences.

Whitehead's background includes international appearances as a soloist, clinician, touring artist, improvisation & electro acoustic groups, contemporary music, commissions from the world's finest composers, principal trumpet in professional orchestras, brass quintets, jazz ensembles, installations, film scores, as well as working extensively with professional theatre and dance and developing interdisciplinary projects across the arts and sciences. Moreover, his formative background as an electric bassist, vocalist, lyricist and song-writer in experimental rock also informs his creative work and educational approaches.

Tours and residencies internationally including tours as a soloist with the EcoSono Ensemble (where he is Director of Performance for the EcoSono Institute), New Zealand Maori group WAI and the Bottesini Project. These include performances and residencies across the U.S, Australia Tasmania, New Zealand, Canada, Mexico, Korea, France, Ireland and Switzerland and been a visiting artist at institutions such as University of California, San Diego, Virginia Tech, University of Virginia, University of Limerick, University of Washington, University of Cork, Huddersfield University, University of Brisbane, Sydney Conservatory, Columbia University, and more.

He has commissioned major new solo works for trumpet, ensemble and orchestra including the Ecoacoustic Concerto for two trumpets, sonic environment and ensemble by Matthew Burtner (2015) with Grammy Award winner, trumpeter Cuong Vu, Hennessy Concerto for trumpet and orchestra byFilm composer Sean Hennessy (2013) and Lonnie and Lonie double concerto with trumpet, piano and orchestra by George Lewis (2019).

His work is critically acclaimed; His most recent recording, the Living Daylights (2018) on pfMENTUM received rave reviews and remained on the top 10 of radio playlists across the U.S. for over a year. Psychoangelo's release panauromni was listed on the top ten cd's of the year by Chicago Time Out. He recorded two cd's with O'Keefe / Stanyek / Walton / Whitehead –"Tunnel" and "Unbalancing Acts" on Circumvention and 9Winds Records, performed solo trumpet on "Tania"- an opera by Anthony Davis on Kotch Int., and was principal trumpet on the soundtrack to the ground-breaking video game Everquest.

Other collaborations include the film score for the documentary film Stitching Rites, UCCS Theatreworks (Heisenberg), the Ormao Dance Company in an installation Sanctuary of Moments at the Colorado Springs Fine Arts Center (2014), Resistance and Rebellion (2014) with folk artist Tim Eriksen (winner of a Peak Arts award), and Boundless Breath (2013). He was Artist in Residence at the 2014 Sonic Landscapes Festival at CSU Fullerton with Matthew Burtner working with composer Eve Baglarian, the Guidian Hand Trombone Quartet, and collaborated with Pandit Sanjoy Bandopadhyay of Kolkata, India (2013).
Past appearances include REDCAT in Los Angeles, the CSUF New Music Festival, BONK Festival, European performances at Bimhuis and Zaal 100 in Amsterdam, Holland, was a headliner with Psychoangelo at the Innova Festival in NYC at the Stone, the EcoSono Institute in Alaska, the SOUNDscape Ensemble, the IMPS Festival in Seattle, the ISIM Cross Cultural Improvisation Festival at Roulette and a featured artist at Columbia University with Yarn / Wire. He has performed with such artists as Grammy Award winner Cuong Vu, Pauline Oliveros, Scott Amendola, Kent Maclagan, George Lewis, Keith Rowe, Nels Cline, Vinny Golia, Wadada Leo Smith, Mary Oliver, Nicolas Collins, Ofer Ben-Amots and Anthony Davis.

Previously, Whitehead held the Principal Trumpet position in the Orquesta Sinfónica UANL de Monterrey, Mexico and the La Jolla Symphony Orchestra. He played in big bands led by George Russell and Gunther Schuller and was a spanned musical chasms by immersing himself in the experimental rock scene in the Boston area for several years in the late 80's and early 90's as bassist and lead singer of 518.

As an educator, he won the Innovations in Teaching with Technology award at UCCS and the Big Idea Award (with the Ormao Dance Co) from the Pikes Peak Arts Council. He is the Artistic Director of the Peak FreQuency Creative Arts, Director of Performance of the EcoSono institute (with Dr. Matthew Burtner) and was Principal Trumpet in the Chamber Orchestra of the Springs (2010 – 2020).
In 2006, He founded the interdisciplinary Music Program at the University of Colorado, Colorado Springs where he is currently a Professor of Music, is currently the Co-Director of the Bachelor of Innovation™ degree and created the Creative Music Performance & Technology, Composition & Sound Design Bachelor's degree tracks. Glen is a Bach trumpet artist for Selmer / Conn and received his Bmus in Performance at the New England Conservatory of Music, and M.A. and D.M.A from the University of California, San Diego. His teachers include Timothy Morrison, George Lewis, Edwin Harkins and Anthony Davis.
Education
D.M.A. in Contemporary Music Performance and Practice, University of California, San Diego
M.A. in Contemporary Music Performance and Practice, University of California, San Diego
B.Mus. New England Conservatory of Music
Courses Taught
Lower Division
MUS 1100 - UCCS Symphony Orchestra 21
MUS 2300 - Electronic Acoustic Ensemble
Upper Division
MUS 4300 - Creative Music Ensemble: The Score and Composition
MUS 4610 - Applied Music - Private Instruction (Trumpet)
MUS 4660 - Applied Music - Private Instruction (Composition)
MUS 4980 - Music Capstone: Senior Thesis
MUS 5410 - Sonic Landscapes: Ecoacoustic Music, Geography, and Environment
VAPA 5950 - Sound Art: Creative Sonic Worlds