Welcome to Theatre & Dance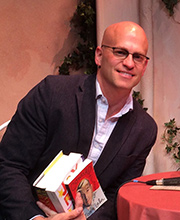 The Theatre and Dance Program is a one of a kind undergraduate experience and we hope that you will join us as audience members or as students. We offer a major and minor in both theatre and dance.
The basic sequence of required courses is designed to provide the student with a theoretical/historical grounding in the art of the theatre and dance and the opportunity to put theories into practice in performance situations. But the program is so much more; we offer world-class opportunities for our students and patrons. Students have the chance to work at THEATREWORKS, a professional regional theatre company, travel to London and New York, meet some of the world's greatest theatre and dance practitioners during their visits for the Prologue Lecture Series and devise, direct and create in the Overlook Dance and Movement Studio and Osborne Studio Theatre.
The philosophy of the program is that "if you can dream it, you can do it" and we endeavor to help you fulfill your scholarly and artistic dreams.
Kevin Landis, Ph.D., M.F.A.
Current Theatre & Dance Events